A lot of things can have a negative impact in our day to day lives, but being overweight can harm, not only us, but our loved ones as well.
If you have tried to lose weight and improve your health, yet you have not succeeded in doing so, you should get a gastric sleeve in Tijuana Mexico; is an option for you.
At CER Hospital we have board certified surgeons who will meet you and guide you throughout the procedure, guaranteeing you the best results.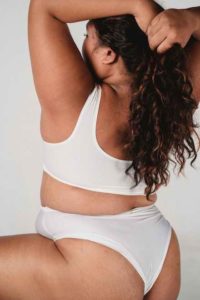 What is a Gastric Sleeve?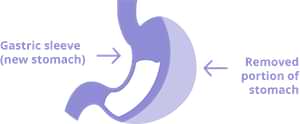 A gastric sleeve is one of the least invasive types of weight loss surgery that renders the stomach smaller. In a gastric sleeve surgery, over eighty percent of the stomach is removed by our board certified surgeons, leaving a thin vertical sleeve, or tube-like stomach, in place of the normal-sized stomach. This results in an inability to eat the same volume of food as before the procedure. As well a large portion of the hunger hormone (Ghrelin) is removed to help the patient to feel fuller faster after surgery.
After meeting our surgeon to discuss the best options to get the best results, weight loss surgery is performed on those who are categorized as obese, generally with a body mass index (BMI) greater than 30. Sleeve gastrectomy has been successful at helping our patients lose over seventy-five percent of their excess weight and has helped reduce or cure many of our patient's diseases that are related to obesity or that they have inherited.
Benefits of a gastric sleeve surgery
•  After having undergone the surgery, you will experience significant changes in your body, losing from 60 to 70 percent of your original weight in about a year.
• Your appetite will be completely different; you will feel less hungry.
• You will regain the speed of your metabolism.
• Medications taken due to overweight discomfort may be eliminated.
• Because of the quality of the equipment our surgeons operate with, and the technology our hospital provides, this procedure is not invasive; the incisions are small and quick to heal so you'll get the best results.
A five-year study performed by the World Journal of Gastrointestinal Surgery showed that laparoscopic gastric sleeve surgery had effective results with zero complications for over 98% of patients. Making it one of the safest and quickest surgeries.
While correctly following your doctor's indications, most of the weight loss happens during the first year. It may take longer in some cases depending on your BMI.
At CER Bariatrics you'll have the opportunity to get a surgery from experts with years of training and thousands of successful surgeries done her in Tijuana Mexico. Our surgeons have the best certifications in Mexico for bariatric surgery.
Take the advantage of getting an affordable weight loss surgery at a top hospital in Mexico at state-of-the-art-facilities.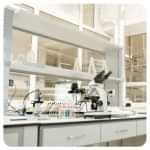 Laparoscopic Sleeve Gastrectomy procedure
Remove about three-quarters of your stomach along the outside curvature.

Create a new stomach in the shape of a thin tube or sleeve.
The sleeve spans the original distance from the esophagus to the small intestine.

Medications are administered for your comfort during the weight loss surgery.
CER Bariatrics Program has a zero-infection rate and a complication rate below one percent with a zero-mortality rate.
Recovery Time
After Gastric Sleeve surgery, you will stay at CER Hospital two nights to recover. As always, it's important that you follow the doctors orders.
Bowel movements may be difficult or painful, this is normal the first week after surgery.

Constipation is normal the first week post-operative.

Walk as much as you can, this helps the healing process.

Take your pain medication when you need them.

Follow your post op diet.
Why choose a gastric sleeve surgery in Tijuana at CER Bariatrics Mexico
CER Bariatrics is the Bariatric branch of CER Hospital. CER Bariatrics is not a third-party company and we have excellent reviews.
Having a gastric sleeve surgery gives the patient the privilege of our complication policy and all the benefits of having surgery at CER hospital such as in the case a patient has a complication while in Mexico, they will be cared for without any additional cost.
Our patients discuss with our surgeon about the best options for the procedure. This way they can rest assured that they will get the best treatment and care; this is done by the best-trained staff and board-certified surgeons getting the best possible results.
Experts in gastric sleeve surgery
Board certified bariatric surgeons skilled in gastric sleeve surgery
Bariatric coordinators who will answer all your questions about the process of gastric sleeve surgery
A nutritionist offering nutrition assessments and dietary advice after surgery
Psychologist providing support before and after surgery
Long term follow up
Bilingual Staff
Our specialists will assist you to clarify your doubts regarding the gastric sleeve surgery at all times:
-A coordinator will contact you and will be assigned to you according to your medical evaluation.
-All of your questions about achieving your ideal weight will be answered.
-As part of the treatment, you will be provided with diets for both before and after your surgery.
-During your stay there will be 24-hour services to your recovery suite.
-The accommodation will be of at least 2 nights. If you want to extend your stay for longer, our team will assist you.
It is important to know that:
-Our quotas are particular to each patient and their requirements. Feel free to ask about it when you first contact us.
-Dr. Alberto Carlos will be your Mexico gastric sleeve surgeon. He has performed more than 5000 successful surgical procedures. He is certified in General Bariatric Surgery to treat obesity and metabolic disorders.
ALL INCLUSIVE Gastric Sleeve Surgery 4,500 dlls


*Additional fees may apply if BMI is over 50


CER Bariatrics works with three top financial institutes that may be the right option for you
ALL INCLUSIVE Gastric Sleeve Surgery $4,500 dlls
*Additional fees may apply if BMI is over 50
CER Bariatrics works with three top financing companies that may be the right option for you.
Included in the price:
• Transportation from and to the US Border (3 minutes from the border)
• Private Suite with private bathroom for you and one guest above 18 years of age.
• Medication for before and after the surgery.
• Two week Pre-op diet care via phone and email with a Bariatric Nutritionist.
• Pre-Examination (Blood Work) + Post-examinations (Leak Test).
• Post-op care via phone.
• Prescribed Post-op medication to take home with you.
• Psychological evaluation.
• Surgical cost and Anesthesiologist including anesthesia.
• EKG + Chest X-Ray + Rapid COVID test / Charges may apply if patient tests positive upon arrival.
• Patient meals (guests must pay for their food).
• Nutritionist evaluation.
• Our hospital quality and care are in accordance with American standards.
Bottled Water, Free WIFI, Phone Calls to the US & Canada, English spoken, Free parking for visitors & Elevator access.
CER Bariatrics is happy to announce we are now working with three top financial institutes that may be the right option for you.
They changed their lives with a gastric sleeve surgery in Tijuana, when are you changing yours?
CER bariatrics is dedicated to the fight against obesity and obesity-related diseases and is at the frontlines with the best board certified Mexico gastric sleeve surgeon in Tijuana, our goal and vision are to not only help our patients lose their weight but to create the longevity plan to help our patients maintain their weight off and getting the best results. Check here the before and after pictures of our happy and satisfied patients:

Dr Carlos, Ari , Jack and all his team and staff are ABSOLUTELY FANTASTIC AMAZING. It was like being in a nice hotel suite clean, roomy rooms,always checking on you I was very impressed so I highly recommend them. Thanks yall I've lost 120 lbs since Jan 19th 2021and still working,losing and eating right
1st 3 before next now

I had my gastric sleeve surgery November 4, 2020. I went lost 40 pounds super easy. Had to start making an effort after that; however, the much smaller stomach makes portion control so much easier. I am down over 70 pounds at this point and have about 30 to go. This surgery was worth every penny and risk. The facility was nice and the staff was professional. I am very happy with the results.

From the beginning to the end the process went very well. I had the Gastric sleeve done in February and they have followed up through the entire time. The doctors and nurses were very nice and informative. The hospital was very clean and professional. The transportation was on time when I arrived. I've lost now 60 pounds and am at my healthiest and happiest.
Frequently asked questions
To qualify for gastric sleeve surgery in Tijuana Mexico, patients must have a BMI between 40 or 35 with a weight-related health condition, such as high cholesterol, high blood pressure, diabetes or sleep apnea. Also, patients with a BMI between 30 and 35 with a weight-related health condition can qualify. Our surgeons are specialized in patients with obesity class I. The patients must be at least 14 years of age and not older than 70.
All surgical procedures involve risk. At CER Hospital our doctors are Board Certified in Bariatric Surgery and are constantly upgrading their skills and techniques, guided by the safest and most effective standards for a gastric sleeve surgery in Mexico. Bariatric has proven to have low complication rates on average they are around 2.4 percent and CER Bariatrics has a complication rate lower than one percent.
A gastric sleeve surgery in Mexico is the only proven diet plan that helps patients lose and maintain the weight off, and as well has been shown to help resolve many obesity-related conditions, such as type 2 diabetes, high blood pressure, heart disease, sleep apnea, some cancers, depression and more. Frequently, patients who lose weight find themselves taking fewer medications to treat their obesity-related conditions.
CER Bariatric Program Offers some of the most proficient and most knowledgeable coordinators in their fields to help guide our patients through their entire gastric sleeve process, as well as provide pre-op and post-op care to lead our patients to their weight loss goal with care and efficiency. CER Bariatrics, the best place for a gastric sleeve Mexico has to offer.
Get the best weight loss surgery in Mexico
Take the opportunity to meet with our surgeon and discuss the best options to give you the best results with a gastric sleeve in Tijuana, Mexico.
For more information on traveling to Tijuana for a gastric sleeve surgery, contact our  patient coordinator today.