Duodenal Switch Surgery Cost
Have you tried to lose weight with diet and exercise but have not been able to overcome obesity? duodenal switch surgery in Mexico is a viable option. Seriously consider the affordable, all-inclusive bariatric procedure we offer at CER Bariatrics®.
What is Duodenal Switch?
The cost of Mini Gastric Bypass Surgery in the United States varies by state, hospital and physician. With this in mind, as discussed above, prices typically range from $16,000 to $22,000.
As healthcare professionals, we are committed to providing valuable information to individuals seeking effective solutions for morbid obesity. Duodenal Switch surgery, also known as Biliopancreatic Diversion with Duodenal Switch), is an advanced bariatric procedure that offers promising results for weight loss and improved health. If you are considering this transformative surgery, it is natural to wonder about the financial implications.
How much is Duodenal Switch?
The cost of Duodenal Switch surgery can vary depending on several factors, such as the location of the procedure, the surgical center, the surgeon's experience, and the additional services included. On average, Duodenal Switch surgery in the United States typically ranges from $20,000 to $30,000.
Find out if you qualify for duodenal switch surgery!
Duodenal Switch cost in Mexico
CER Bariatrics® has the most experienced laparoscopic duodenal switch surgeons. We are a high-volume duodenal switch center offering an all-inclusive surgery package for one of the most affordable prices.
Duodenal Switch pricing starts at $6,695 at CER Bariatrics®. Let's start by filling out the following
health form to be approved and receive an accurate quote for your weight loss journey.
Fill out this Weight Loss Form
Duodenal Switch cost around the World
The price of the duodenal switch is quite high for the uninsured. It varies depending on the following characteristics: location, surgeon's experience, surgical facilities, and what is included in the all-inclusive package. Duodenal switch surgery can easily cost between $25,000 and $38,000 in the United States and Canada. The price is significantly lower at surgery centers in Mexico, where the level of patient care and safety standards are increasing.
The cost savings of the Duodenal Switch in Mexico among medical travelers is approximately 78% compared to the United States.
The duodenal gastric switch is a "last resort" surgery reserved for patients with super high BMI. Below are the costs of duodenal switch worldwide in countries that practice the surgery.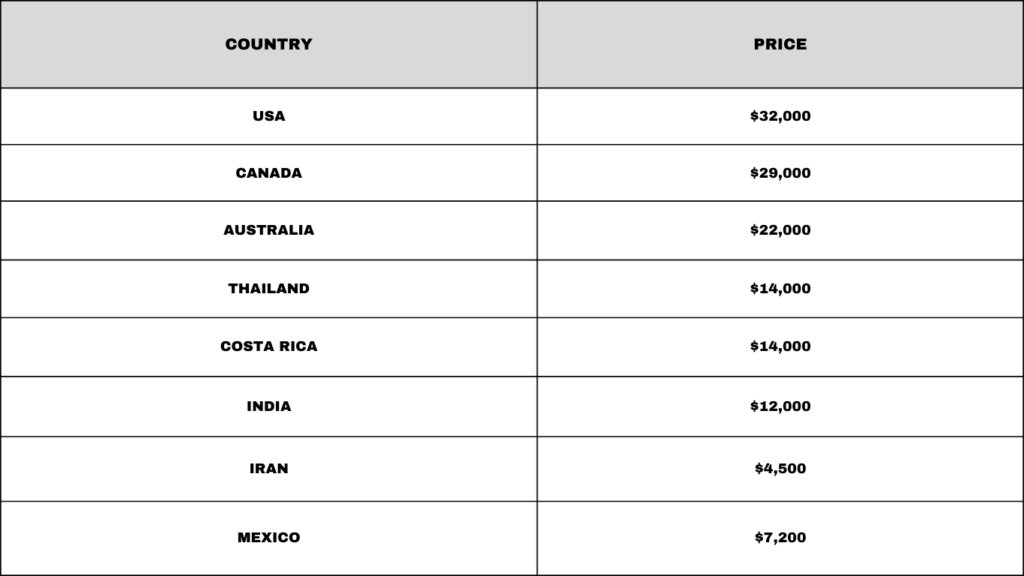 How it works Duodenal Switch Procedure
The Duodenal Switch procedure is a combination of two techniques: restrictive and malabsorptive. It involves the creation of a smaller stomach pouch similar to that in the Gastric Sleeve surgery, which restricts food intake. Additionally, a portion of the small intestine is bypassed, reducing the absorption of calories and nutrients. This comprehensive approach results in significant weight loss and can provide effective results for individuals with morbid obesity, high body mass index (BMI), and obesity-related health conditions.
Find out if you qualify for duodenal switch surgery
Is Duodenal Switch Covered by Insurance?
While the cost of Duodenal Switch surgery may seem substantial, it's important to explore various payment options to make this life-changing procedure more affordable. Some insurance companies may cover a portion of the cost of weight loss surgery, especially if obesity-related health conditions like high blood pressure are present. Health insurance coverage for Duodenal Switch surgery depends on your specific policy and medical necessity.
Before proceeding, I recommend contacting your insurance provider to understand the extent of coverage for bariatric procedures. For those without comprehensive insurance coverage, discussing payment plans with surgical facilities can help ease the financial burden of the surgery.
Compare Insurance with CER Bariatrics® 
Financing Options for Switch Duodenal Surgery
For individuals who are not covered by health insurance or whose policies do not cover the cost of Switch Duodenal surgery, paying out-of-pocket is a viable option at CER Bariatrics. While it may require upfront financial planning, investing in your health and wellness through weight loss surgery can lead to long-term benefits and improved quality of life.
Bariatric surgery financing options are available for our patients concerned about spending money or eating into their savings. View our financing options and make the best decision with our coordinators.
We work with three financial institutions that are lenders and make their loans based on your FICO score and credit history. Also, a nice thing about our financing options is that they can let you use a co-applicant if you need one. For example, if the patient is not the head of the household, they can use the co-applicants credit for the loan.
The companies have a 24-48 hour turnaround time after submitting your loan application. However, the patient should read the conditions set by the loan company. In case the conditions are acceptable, let the company know so that the loan process can be initiated. Also, inform them that you will be having surgery with CER Bariatric / CER Group Corp and give them a date for the surgery.
It is important to keep in mind that the cost of obesity, both financially and in terms of health consequences, can be considerable. Obesity-related diseases such as hypertension, diabetes, and joint problems can lead to significant medical expenses over time. Duodenal Switch surgery can treat these problems and potentially reduce the need for ongoing medical treatment.
Affordable Duodenal Switch Packages CER Bariatrics® Mexico
CER Bariatrics offers all-inclusive Duodenal Switch packages that include the following:
Preoperative Tests (lab work, EKG, blood test, X-Ray, medical evaluation)
Antibiotics, Pain, and Take-Home Medication
Hospital Stay & Fees Private Room with Private Bathroom (two nights)
Nutritionist Pre-Op & Post-Op Care
Private Luxury Transportation from the Airport or Hotel to our Hospital
Surgeon & Anesthesiologist Fees
Consultation with Medical Psychologist
Post-Op Leak Test
Private Support Group
At CER Bariatrics® we offer you the following weight loss surgeries: Gastric Sleeve, Roux-n-Y Gastric Bypass, Mini Gastric Bypass, Gastric Balloon, VSG to Gastric Bypass Revision, VSG to Duodenal Switch Revision, and Lap Band to Gastric Sleeve Revision and Lap Band to Gastric Bypass Revision
Related Post
Learn how to kickstart your weight loss journey